Hello! Thank you for visiting Jim Johns' Giant Tire Management web site. The purpose of this site is to eventually have the Giant Tire Management System online so you may have access to your records in real time.
This website is dedicated to try to improve many aspects of the earthmover tire business. I believe that cost, tire management, tire safety, and general maintenance practices can always be improved. Through good tire analysis, tire management and thorough site management, the areas of concern can be more efficient and safe. We utilize the most advanced tire tracking tools available in conjunction with the finest partners such as, Yokohama, Bridgestone / Firestone, Michelin Goodyear Purcell Retreading, and Fuller Bros Tirelife products.

I started in the commercial / giant (OTR) tire business more than 30 years ago and have never left. Most of my experience has been in the industrial and OTR segments of the tire business. I have served customers requiring solid tires of all types and sizes, including pneumatic tires with urethane fill. I have also served many customers throughout the Midwest that are involved in mining, quarry applications, and construction. I spent a good many years providing service for these giant OTR tires as a technician.
I always understood these giants were expensive, and better management was required to control costs and extend their life. I also was aware of the dangers involved in changing and operating these big, heavy, and expensive tires. We were able to monitor and maintain these tires by using sophisticated equipment such as file cards and a sharp point pencil. This seemed pretty high tech at the time. Tennis shoes and a baseball cap were the safety apparel for the "tire guy".


Now we have highly trained service technicians operating very expensive service trucks with larger than ever before cranes, some remote controlled, with MSHA approval sheets in their wallets that must be renewed every year. Tennis shoes and baseball caps are gone forever.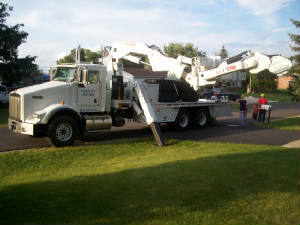 Additionally, we now have computer programs on laptops that monitor, track, and keep us updated on every aspect of the performance of these giants. I started learning and using these new tools in their infancy somewhere in the 1980's. These early programs were confusing, as well as frustrating. However, I stuck with it and I'm glad to say these programs are now as dependable and valuable as any other maintenance tool in use today.


I also have spent a lot of time promoting safe procedures regarding giant tire servicing and maintenance. I have joined with The Triple S Tire Company, Inc to continue this endeavor. I believe The Triple S Tire Co. is a top notch giant tire service organization sharing the same beliefs as mine. This is a second generation company that has always put excellent service and fair practices at the front of their plans. Together, we strive to provide our customers with up to date technology, and timely professional service. We always keep your profitability and safety as our main goals. Our target is to develop a relationship with our customers that is mutually profitable and enjoyable.


Please call to see what we can do to assist you!